Who is ALICE?
ALICE is a household that has income above the poverty line but is still facing the barriers of food scarcity, reliable transportation, healthcare, and much more. ALICE stands for Asset Limited, Income Constrained, Employed which represents many growing families earning above the Federal Poverty Level, but unable to afford other living necessities. To support a family of four, two parents must earn a $20 hourly wage.
In Texas, 50% of employees earn less than $20 per hour (United For Alice Wage Tool, 2022).
According to United Way of Greater Houston (2022), "14% of households across Greater Houston are living below the federal poverty threshold, and 33% of households are experiencing ALICE..".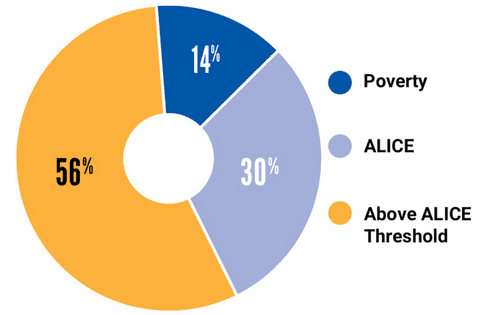 Why does ALICE matter?
Empower CDC serves four counties in Texas that includes Fort Bend, Harris, Montgomery, & Waller. In these counties, more than 30% of households are ALICE.
ALICE matters to the community as he/she serves a role that contributes to our everyday lives such as a nurse, sales clerk, teacher, waiter/waitress, etc. The functioning of society relies on ALICE.
If ALICE is facing hardship and must make difficult decisions to survive, then we all are vulnerable to repercussions. ALICE households are impacted by inflation as the cost of rent and other necessities have severely increased.
From a survey conducted by Bankrate in early January, "Some 56% of Americans are unable to cover an unexpected $1,000 bill with savings"(Reincke, 2022).
In addition, inflation has contributed to many households being unable to save as the cost of necessities has increased.
ALICE households are nearly 50% of the Greater Houston Area. As inflation increases, more households will spend more on rent plus other expenses.