Empower(ed) To Restore 2024 Job Fair & Expungement Clinic
Welcome to the 2024 Empower(ed) To Restore Job Fair & Expungement Clinic!
We're excited to announce the 2024 Empower(ed) To Restore Job Fair & Expungement Clinic, two transformative events that can change the course of your future. Join us on January 20th, 2024, starting at 8:30 AM, for our Expungement Clinic, where you'll receive valuable resources and guidance to clear your record and embark on a fresh start. Then, mark your calendars for April 13th, 2024, starting at 10 AM, when our Job Fair takes center stage. Connect with employers who believe in second chances, explore job opportunities, and network with professionals. These events are your gateway to a brighter future. Don't miss this chance to empower yourself and restore your life – together, we can make a difference.
2024 Expungement & Record Clearing Clinic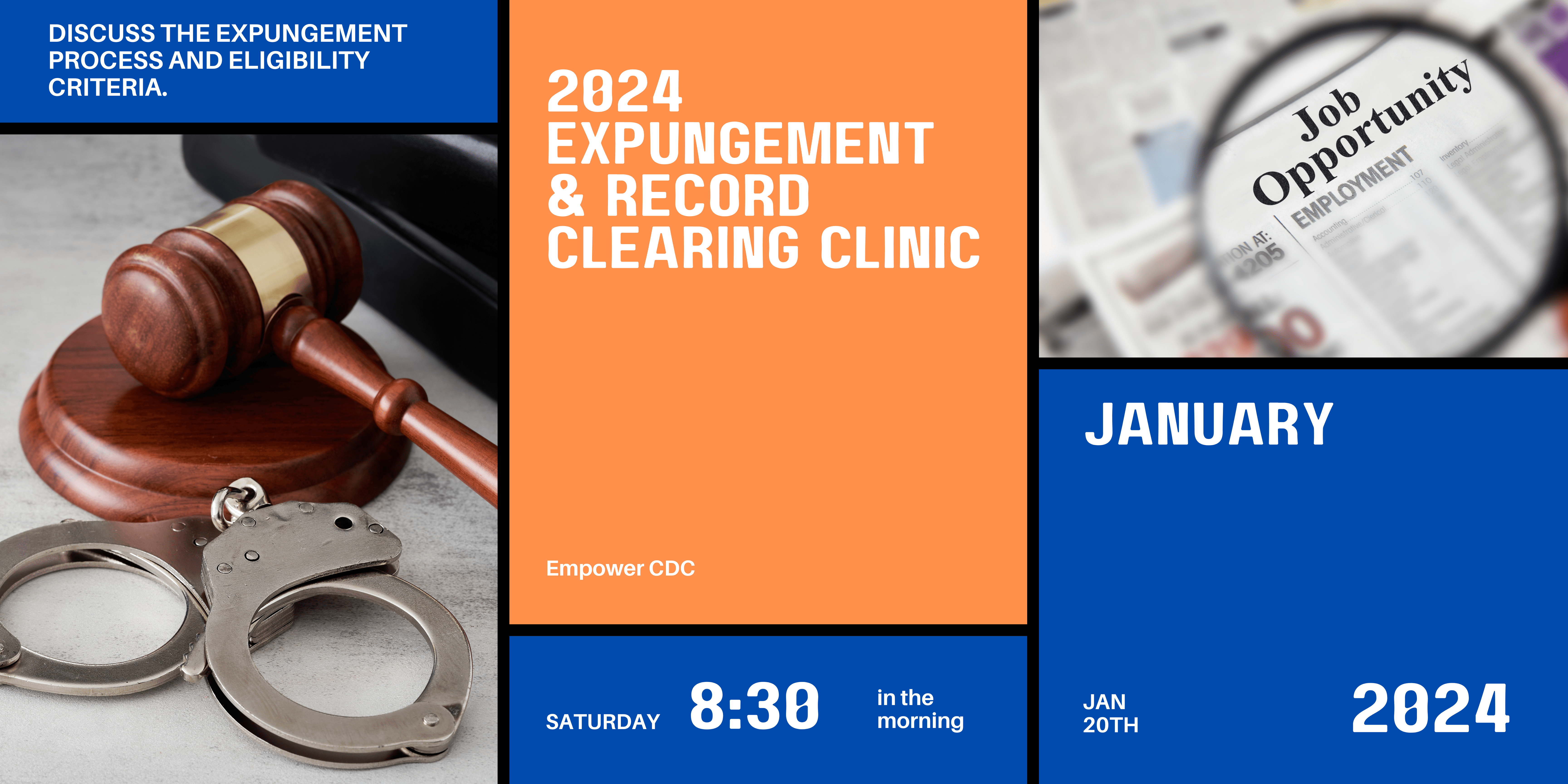 Unlock Your Future: Join Us at the 2024 Expungement & Record Clearing Clinic!
Are you burdened by a criminal record and wondering how to clear your path towards a brighter future? Empower CDC invites you to the 2024 Expungement & Record Clearing Clinic, a transformative event designed to guide you through the expungement process, assess your eligibility, and provide the support you need to regain control of your life.
Event Highlights:
Expert Guidance: Our team of legal experts and professionals will be on hand to discuss the expungement process, eligibility criteria, and the steps involved in clearing your record. We're here to answer all your questions and provide clarity on this important journey.
Document Assistance: Let us assist you in completing the necessary paperwork and applications required to move forward with expungement. Our dedicated volunteers will be by your side to ensure your documents are filled out correctly and submitted promptly.
Prepare for Success: Gain valuable insights on how to prepare for expungement hearings. We'll provide guidance on what to expect, how to present your case, and the best strategies for a successful expungement process.
Why Attend?
At the 2024 Expungement & Record Clearing Clinic, you'll find the resources and support you need to take control of your future. We believe that everyone deserves a second chance, and we're here to help you pave the way to a brighter tomorrow.
How to Participate:
Participation in this event is free, and no registration is required. Simply show up on January 20, 2024, and we will guide you through the process.
2024 Job Fair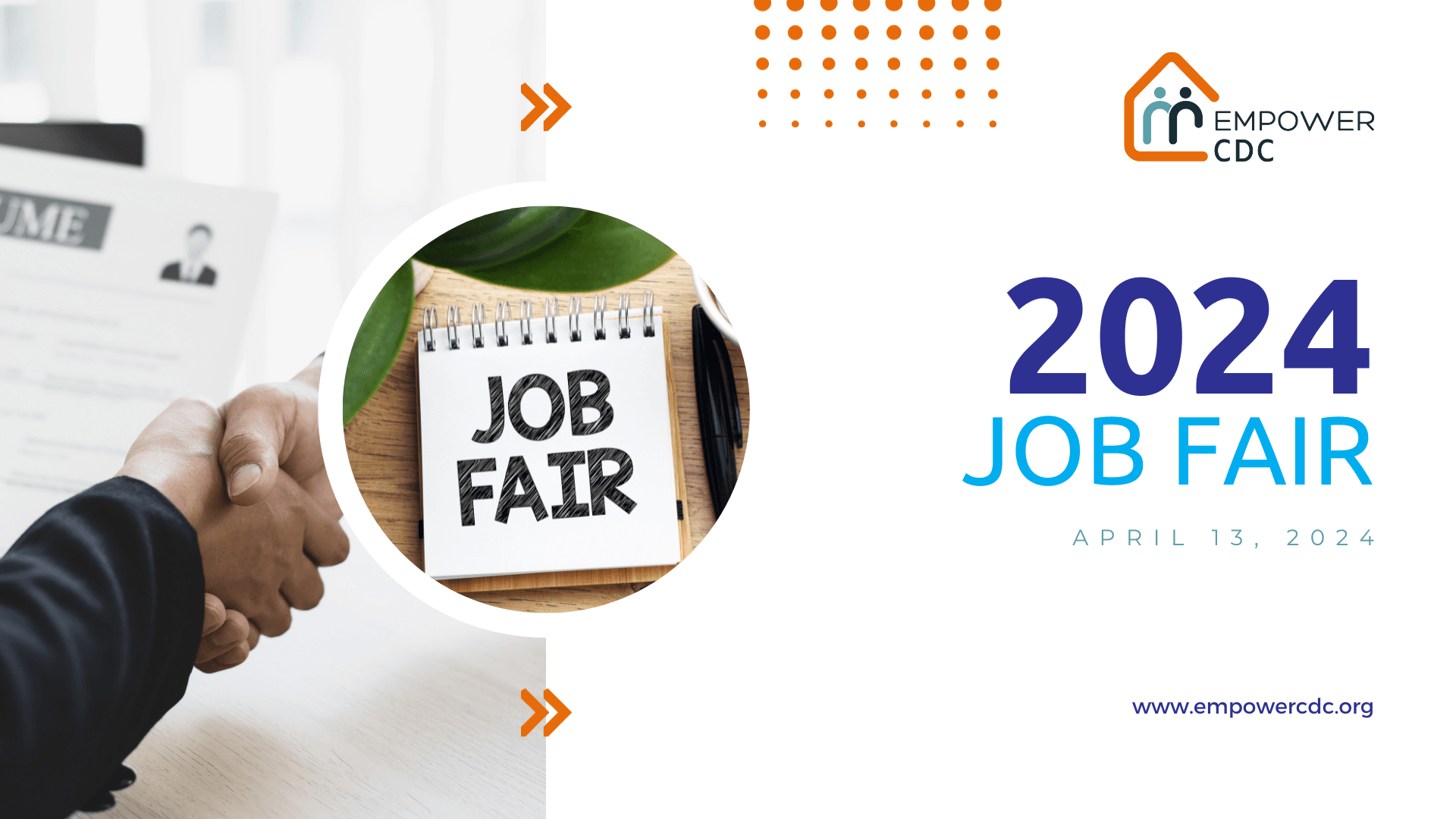 Event Highlights:
Connect with a Diverse Audience: The 2024 Job Fair will attract a diverse range of job seekers, entrepreneurs, and community members. As a vendor, you'll have the chance to engage with a wide cross-section of potential customers.
Boost Your Brand: This event offers a prime platform to increase brand visibility and gain recognition in the community. With hundreds of attendees expected, your business or organization will receive exposure like never before.
Support a Worthy Cause: By participating in this job fair, you directly contribute to the betterment of our community. Your presence helps empower individuals and restore hope for a brighter future.
Calling All Vendors: Join Us in Empowering a Brighter Future!
Are you ready to make a significant impact on your community while showcasing your products and services? The Empower(ed) To Restore: 2024 Job Fair is your opportunity to shine! We invite you to be a part of this transformative event as a valued vendor.
Sponsorship Opportunities:
If you're looking for even more prominent exposure, we offer various sponsorship levels. Become a key partner in this impactful event and enjoy exclusive benefits. To explore sponsorship options and register your interest, please email lashundria@empowercdc.org to fill out our sponsorship form.