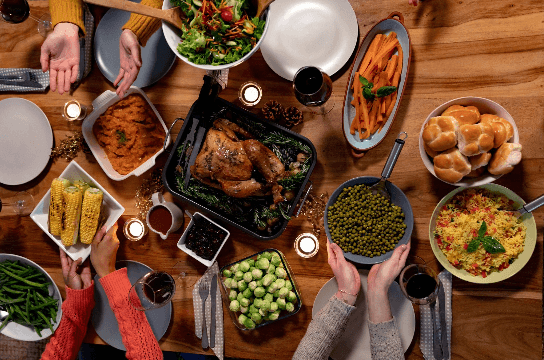 During Thanksgiving, people come together to celebrate and express thanks for all they have. This can, however, be a challenging time for many low-income families struggling to make ends meet. The greatest challenge one may face on this special day is being able to afford food to feed their families, including those without shelter and food. In this Thanksgiving season, consider the impact this may have on some households.
What is National Hunger and Homelessness Awareness Week?
Annually, the National Coalition for the Homeless and the National Student Campaign Against Hunger and Homelessness sponsor National Hunger and Homelessness Awareness Week, according to HHWeek. From November 13th to 21st, awareness is raised during the week prior to Thanksgiving.
Villanova University first held Hunger and Homelessness Awareness Week in 1975. Today, more than 700 colleges, high schools, and community organizations across the country promote awareness of hunger and homelessness. Hunger and Homelessness Awareness Week was established to educate the public and bring attention to poverty, as well as increase support and volunteers for local anti-poverty agencies, according to HHWeek.
In many households, basic necessities such as groceries, rent, and medical care are sacrificed in order to make ends meet. According to HHWeek, 37.2 million Americans live below the federal poverty line.
Who is impacted?
There are many barriers that ALICE Households face, including food insecurity, despite living under the federal poverty line or hardly above it. (Find out more about ALICE).
The Pew Research Center reported in 2022 that one in four U.S. parents have faced times when they could not afford food for their families due to inflation. It is estimated that nearly half (52%) are low-income parents who once faced difficulty providing food for their families. As a comparison, 17% of middle-income parents and 5% of upper-income parents have faced times in which they were unable to provide food for their families.
During the Thanksgiving holiday, many ALICE Households who are low-income families may be unable to provide a sufficient meal.
According to the American Farm Bureau Federation's (AFBF) Marketbasket Survey, it is estimated that the average cost of Thanksgiving dinner for 10 people this year will be $61.17, compared with $64.05 in 2022 and $53.31 in 2021.
According to Figure 1 Chart, the AFBF also compiled a breakdown of turkey and side dish costs for Thanksgiving dinner. Based on the chart, the total cost of turkey and side dishes is estimated at $60, with the cost of turkey estimated between $20-$25, and the cost of side dishes estimated between $35-$40. This does not include inflation adjustments.
Due to many households spending most of their income on rent and having to balance the remaining funds for other living necessities, they may not be able to afford groceries for the Thanksgiving holiday.
Additionally, while some families struggle to feed their families during Thanksgiving, others live in shelters or on the streets without food.
What does this look like in Houston?
According to Feeding Texas, one out of eight or nearly 4 million Texans experience food insecurity, including children, seniors, veterans, people with disabilities, and working families.
The primary cause of food insecurity is a lack of income, which makes a household unable to afford rent and other basic living expenses. As a result, some households are forced to sacrifice in some areas to make ends meet.
Food insecurity in Texas affects 20% of children, which can lead to hospitalizations or other serious health conditions due to lack of food consumption. Additionally, 11% of seniors are forced to choose between food and healthcare due to financial constraints, according to Feeding Texas.
African American and Latino communities in Texas are more likely to face food insecurity, according to Feeding Texas. African-American households are twice as likely to experience food insecurity as White and non-Hispanic households. Therefore, one in four African-American children experience persistent hunger. Furthermore, poverty and unemployment are contributing factors.
Latino communities in Texas experience food insecurity at a higher rate, according to Feeding Texas. Latino children are at a greater risk of hunger than White and non-Hispanic children by more than 18%. In addition, one in six Latino households in the U.S. suffers from hunger.
Furthermore, many ALICE households or those at risk of becoming ALICE may be unable to afford groceries, rent, and other basic living necessities.
Resources for Thanksgiving
This holiday season, many families are struggling to maintain their household and provide food for their families, at risk of losing their homes, living in shelters, or experiencing homelessness with children.
Visit here if you, a friend, or a loved one are looking for resources to feed yourself or your family on Thanksgiving.