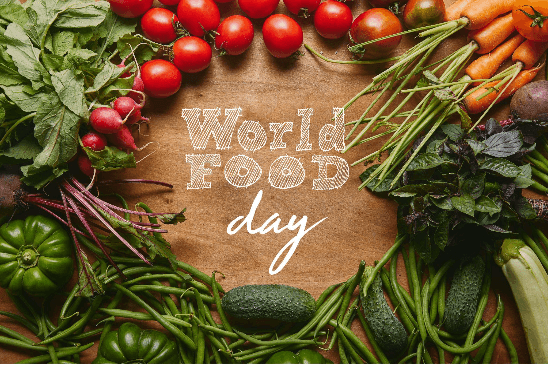 What is World Food Day?
The Food and Agriculture Organization of the United Nations (FAO) founded World Food Day in 1945. Every year, World Food Day is celebrated on October 16. According to FAO, this day is dedicated to raising global awareness about hunger and advocating for action to improve the future of food, people, and plants. Let's explore food insecurity in our communities as World Food Day highlights the issue of hunger.
What is food insecurity?
Food insecurity is defined by the U.S. Department of Agriculture (USDA) as the lack of access to sufficient food for an active and healthy life, according to (Feeding America).
According to Feeding America, some reasons for food insecurity include "poverty or low income households, a lack of affordable housing, chronic health conditions, lack of access to healthcare, and systemic racism and racial discrimination". There are many causes of food insecurity, as some households can't make ends meet and have to sacrifice between paying bills and feeding their families. Layoffs or unexpected expenses, such as car repairs or medical bills, may cause hardships to many households. Most households cannot afford their rent, leaving little left over to cover other living expenses.
How are families affected by food insecurity?
Feeding America reports that many families struggle to make ends meet and have to choose between paying bills, such as paying for food and health care, or paying for food and utilities. The presence of food insecurity in a family negatively impacts children's cognitive ability and growth, as well as adults' ability to manage disease.
What does this look like for families in Houston?
United Way of Greater Houston reported that "more than 1 million households in the Greater Houston area are asset-limited, income-constrained, and employed (ALICE) or below the federal poverty line", according to the Kinder Institute. Including, 8 out of 10 households in some neighborhoods cannot afford basic necessities.
The ALICE acronym stands for Asset Limited, Income Constrained, Employed, which refers to growing families earning above the federal poverty level, but unable to afford basic necessities.
An ALICE household is one which earns above the poverty line, but still faces barriers such as food insecurity, reliable transportation, healthcare and more. (Read more about ALICE here).
Based on the 2023 ALICE Report, the ALICE Household Survival Budget estimates that the average monthly cost of food in Texas (2021) for a one-adult household was $374, compared with $1,020 for a family of four. Additionally, the monthly food costs for a single senior were $345.
The ALICE Report revealed that 43% of Texas households lived below the ALICE Threshold in 2021. Despite pandemic relief benefits and assistance programs being offered to help residents, these government funds were eventually exhausted. "As a result of changes to the emergency pandemic food measures, including the end of SNAP emergency allotments, many households will have to rely on the charitable food system." says the ALICE report.
Since the beginning of the pandemic, ALICE households have been experiencing food insecurity. The Household Pulse Survey (August 2020) found that households below the ALICE Threshold in Texas were more likely to report sometimes or often lacking enough food than households above the Threshold (17% vs. 4%). In comparison to the November 2020 survey, the rates increased for those below the Threshold while remaining unchanged for those above the Threshold (23% vs. 4%). Additionally, it was found that food insufficiency rates in Texas households with children continued to rise between 2021 and 2022, especially for ALICE households below the threshold, according to the ALICE report..
Many ALICE households found themselves struggling to make ends meet during this pandemic, unable to afford daily expenses. Household Pulse Survey (August 2020) found that households below the ALICE threshold reported having a hard time paying for basic items like food, rent, mortgage, car payments, and medical expenses more than twice as often as households above the threshold (54% vs. 20%). Furthermore, these rates will increase through November 2022 for those below the ALICE threshold (61%), and for those above the threshold (29%), according to the ALICE report.
As revealed by the 2023 ALICE Report households below the ALICE Threshold are still experiencing economic hardship, including food insufficiency and financial difficulty.
What are some resources?
Find support here if you, a loved one, or a friend are having difficulty providing food for your family.