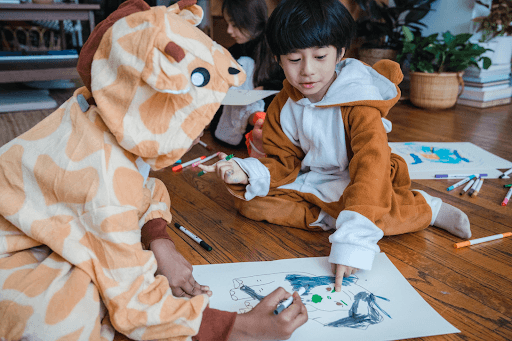 Do you dread those rainy Houston days or long recesses when your kids complain they have nothing to do? If so, you're not alone. In fact, there are plenty of interesting, fun, and budget-friendly activities that don't require sunlight or weather extremes. Here are five amazing indoor activities to keep your family entertained and engaged.
DIY Arts and Crafts
Arts and crafts activities are great for children of all ages and can keep them entertained for hours. It also helps develop their fine motor skills and teaches them valuable life skills, including patience, creativity, and teamwork. The advantage is that you probably have most of the material at your disposal and lying around in the house. Use recyclable items such as cereal boxes, bottle caps, newspapers, egg cartons, toilet rolls, and milk cartons to create a range of colorful crafts to decorate their rooms or make as gifts to family members and friends.
Cooking and Baking
There are many benefits to cooking and baking with your children as it presents plenty of learning opportunities, including the skills necessary to perform well in school. Most aspects of cooking require some form of measuring, which is an essential mathematical skill. Even following a simple recipe requires concentration and develops reading skills. By cooking, children also learn about science concepts and health and nutrition. Finally, spending time in the kitchen together is a wonderful bonding opportunity that allows you to spend quality time with your child.  
Family Game Nights
It doesn't matter how big or small your family is; game nights are a great way to spend time together. In addition, your child learns several essential life skills, such as teamwork and interrelational interaction. Playing with family members also creates a safe space where your child can learn and accept that although competition has its merits, losing is also a part of life.
Fun With Science
Kids love science experiments because they are a way to explore the world around them. By performing science experiments, children learn about the principles of gravity, motion, energy, and more. Not only do they have fun while they're learning, but they also develop critical thinking and problem-solving skills.
Imaginative Play
Imaginative play lets children practice the realities of life in a safe space that allows them to try out different roles. If your child wants to be an entrepreneur, creating an imaginary small business can provide insight into what setting up a business requires. You can encourage your child to use a free clothing logo design tool, allowing them to express their creativity in choosing colors, fonts, and layouts.  
Learn While Having Fun
There's no reason your children can't have as much fun indoors as they do outside in Houston. By following these five simple indoor activities for kids guide, you'll be able to provide your kids with loads of fun and educational activities they'll love.
Education Based Housing, Inc. aims to provide quality education, housing, and job skills training opportunities for cost-burdened communities in six cities located in the southeast region of Texas. For more information on how you can help make a difference in the communities they serve, visit their website today.